---
The Brief:
Design and build a chair based on Scandinavian design principles.
The piece must use four planks of raw maple and a chosen cord or fabric to complete the seat.
I built the chair while studying abroad at DIS in Copenhagen.

In this study away course, I spent two weeks studying classic Danish design history with a focus on the 20th century.
I went on a tour of Greater Denmark, viewing museums, factories, and iconic democratic architecture.
This chair is a product of my love for food and marine life.
I used Scandinavian design language to convey the modern evolution of Danish cuisine and culture.

I was initially inspired by René Redzepi's use of fish bones at Noma.
A fishbone is something that we would normally discard or even find a nuisance,
but in this case, it is valued for its beauty, form, and vitality.
Fishbones
from Noma and La Banchina
Danish Design Classics

Racket Chair, Vestergaard
Boomerang hm2, Hvidt and Mølgaard

Viking Ships

Handmade hull recreations
Exploring in Scale
My ideation was a non-linear process between drawings and scale models.
I tested multiple designs using balsa, wool, foamboard and fishing line.



I also used a wooden box to experiment with weave patterns and spacing.
The chair was made entirely by hand, using traditional Danish techniques.
Orthographics were drawn on paper at a 1:1 scale to better understand proportion.
The raw maple was finished using a traditional Danish soaping technique.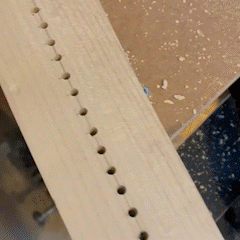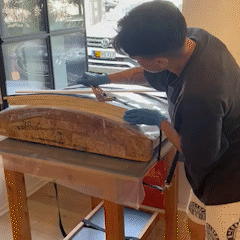 The Chair
The final chair incorporates the tapered curves of fishbones and is simplistic in its raw maple material.
The weave is made from 1.2mm fishine line and creates an etherial, light minimalism.

Although made by hand, this piece could be reconfigured to be manufactured on a C+C machine with relative ease.The chair is surprisingly sturdy and at a curved 108 degrees, is comfortable to lounge in.